Advance Polls Begin for Provincial By-election in Calgary-Greenway
March 16, 2016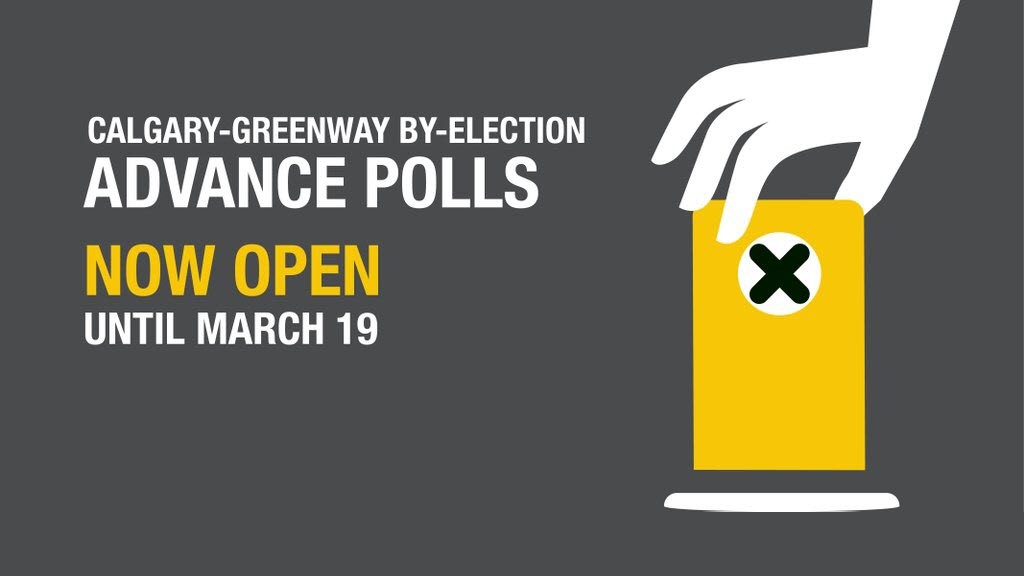 EDMONTON – Alberta's Chief Electoral Officer, Glen Resler, announces that Advance polls begin today, Wednesday, March 16, 2016 and continue until Saturday, March 19th, 2016, from 9:00 a.m. until 8:00 p.m. each day at Abbeydale School, 320 Abergale Drive NE, Calgary.
Canadian citizens who have lived in Alberta since September 22, 2015 and will be at least 18 years of age or older on Election Day, March 22, 2016, are eligible to vote at the Advance Poll if they are resident in the electoral division of Calgary-Greenway.
We encourage electors that have received their "Where to Vote" card in the mail to bring it with them to the Advance Poll. This will shorten the time that electors will have to wait to receive a ballot from Election Officials.
If electors did not receive a Where to Vote card from Elections Alberta and are not on the voters list they will be required to register at the poll before being permitted to vote. To register, electors must provide authorized identification containing their name and residential address in the electoral division. A list of authorized identification is on our website: click on "Voters" and then click on "ID required to vote" then click on "complete list here".
For more information about the Provincial By-election visit www.elections.ab.ca, call toll free at 1-877-422-8683 during normal office hours, join us on Facebook or follow us on Twitter.
Elections Alberta is an independent non-partisan office of the Legislative Assembly responsible for administering provincial elections, by-elections, referenda and Senate Nominee elections.
– 30 –
For media inquiries, please contact:
Drew Westwater; Deputy Chief Electoral Officer
Suite 100, 11510 Kingsway Ave NW
Edmonton, Alberta   T5G 2Y5
780-427-1038
Posted in: Uncategorized