Chief Electoral Officer Releases 2018 Enumeration Report
October 10, 2019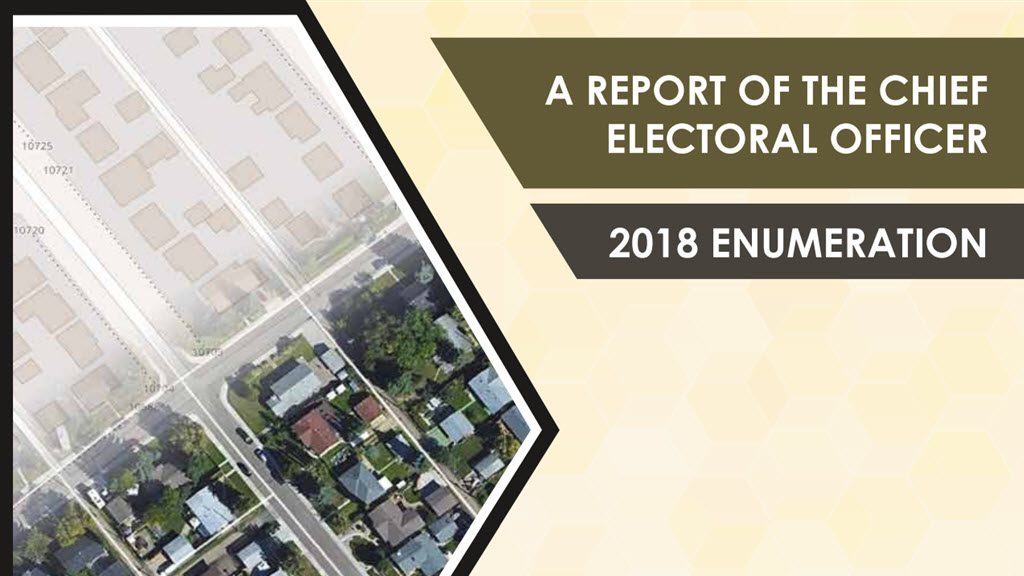 EDMONTON – Today the Chief Electoral Officer, Glen Resler, released his report on the 2018 Provincial Enumeration, pursuant to section 21(4) of the Election Act.
The enumeration was conducted between August 1 and October 5, 2018 in an effort to register voters in advance of the 2019 Provincial General Election. Electors were provided with three ways to register to vote; online, over the phone or at the door. There were 5,692 enumerators hired to collect elector data.
A total of 1,444,821 electors participated in the process, including:
926,731 electors that confirmed their information;
193,763 electors that updated their information to reflect a change in address; and
324,327 new electors that were added to the Register of Electors.
Following the enumeration, there were 2,654,119 electors registered to vote in the 2019 Provincial General Election. The enumeration had a total cost of $10,344,580, or $3.90 per registered elector.
The Chief Electoral Officer has included five recommendations in the report for legislative change. Two of the recommendations are intended to balance the need to maintain an accurate Register of Electors with the need to be fiscally responsible with the resources available. The following three recommendations pertain to the personal information that is collected for the Register of Electors, and providing additional protections regarding the collection, use, storage and disclosure of that information.
The five recommendations include:
Eliminate the requirement for mandatory door-to-door enumeration prior to a Provincial General Election.
Increase the flexibility in the Election Act to allow the Chief Electoral Officer to complete enumeration activities using a variety of different methods of registration.
Include the ability for alternative contact information, such as email addresses, to be contained in the Register of Electors.
Remove elector contact information from the List of Electors provided to registered political parties and candidates.
Require registered political parties and candidates to submit a privacy policy, following guidelines established by the Chief Electoral Officer, prior to receiving the List of Electors.
To view the report, click here.
Elections Alberta is an independent, non-partisan office of the Legislative Assembly responsible for administering provincial elections, by-elections and referenda.
For media inquiries, please contact:
Pamela Renwick
Director, Operations and Communications
Suite 100, 11510 Kingsway Ave NW
Edmonton, Alberta T5G 2Y5
780.427.7191
Pamela.renwick@elections.ab.ca
Posted in: Uncategorized