Voting Places Open for Provincial By-Election in Brooks-Medicine Hat
November 08, 2022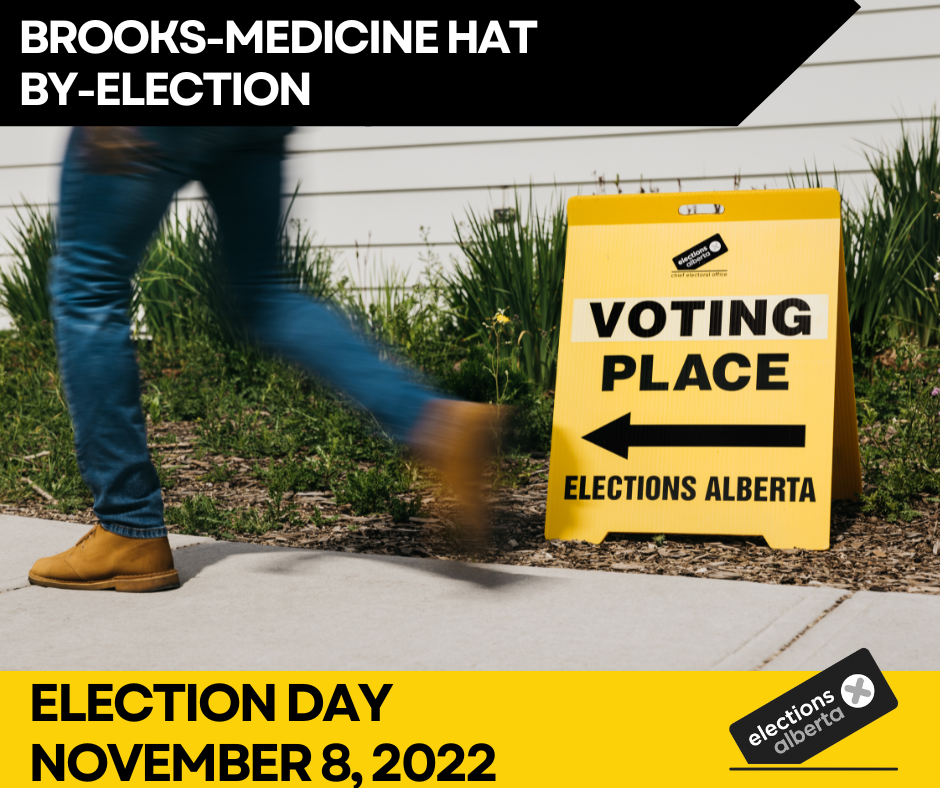 EDMONTON – Alberta's Chief Electoral Officer, Glen Resler, confirms the voting places for the Brooks-Medicine Hat By-Election are now open. Election Day voting locations are open today between the hours of 9:00 a.m. and 8:00 p.m.
Voter Eligibility
Canadian citizens who are at least 18 years of age on election day are eligible to vote if they are an ordinary resident of the electoral division. Electors who are uncertain if they reside in the electoral division of Brooks-Medicine Hat can use the "Where Do I Vote" tool on the Elections Alberta website to determine their eligibility.
Voter Identification
All electors are required to show identification to prove their identity and current physical address in the electoral division prior to voting. This may include:
one piece of Government-issued, photo ID, including full name, physical address, and photo, or
two pieces of ID, both containing a full name and one showing a physical address.
Electors without ID can be vouched for by an elector that has authorized ID and resides in the same polling subdivision. A list of authorized identification can be found on the Elections Alberta website (click "Voters" and then "ID Required to Vote").
Voter Registration
Electors may register to vote at their assigned voting place. To register, electors must provide authorized identification and sign a declaration.
Electors who are already registered to vote at their current physical address do not need to register again.
The unofficial count will occur once voting closes at 8:00 p.m. Each vote is counted by hand by Election Officers responsible for that voting place. As counts are completed, results will be posted on the Elections Alberta's website, under "Election Results".
For more information about the provincial by-election, visit www.elections.ab.ca, call 1-877-422-VOTE (8683) or visit @ElectionsAB on social media.
Elections Alberta is an independent, non-partisan office of the Legislative Assembly of Alberta responsible for administering provincial elections, by-elections, and referenda.
For media inquiries, please contact:
Megan Narsing
Media and Communications Officer
Phone: 780.427.6698
Email: media@elections.ab.ca
Posted in: Uncategorized