Chief Electoral Officer Releases 2019 Provincial General Election Report
March 16, 2020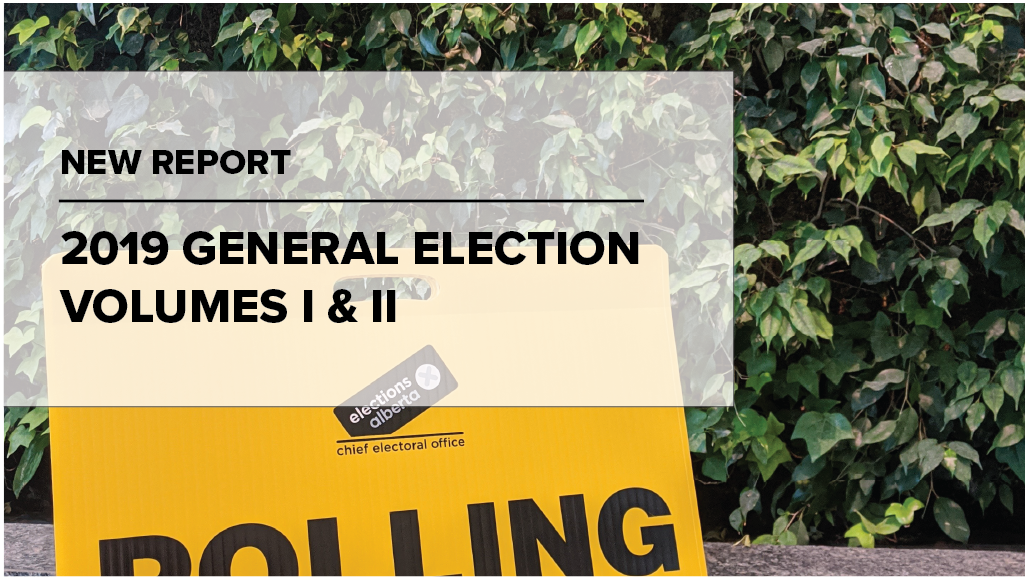 EDMONTON – Today the Chief Electoral Officer, Glen Resler, released the first two of three volumes of his report on the 2019 Provincial General Election. These two volumes include information on the election event, statistics, costs, recommendations and poll-by-poll results. A third volume is planned for release in the summer of 2020 and will report on the financial activities of political participants related to the General Election.
The Provincial General Election was held on Tuesday, April 16, 2019. Over 1.9 million electors voted in the election, resulting in a final voter turnout of 67.5%. This represents the highest voter turnout in Alberta since the 1971 Provincial General Election.
Chief Electoral Officer, Glen Resler stated:
"We experienced the highest voter turnout recorded since the Office of the Chief Electoral Officer was established. It is incredibly rewarding to see the public interest and participation that occurred. My appreciation goes out to the over 20,000 Albertans that worked tirelessly to provide timely and efficient information and voting services to all participants."
Many new initiatives were introduced during the election that increased voting opportunities for electors. Most notable were the changes to advance voting that added a variety of new location options, an additional day of voting and the ability for electors to vote at any advance poll across Alberta. These changes were embraced by electors, with 36.7% of electors choosing to vote in advance of Election Day, and of those, 31.9% using the vote anywhere service. This is a substantial increase from the 2015 General Election, when 15.82% of electors chose to vote in advance.
Following the election, there were 2,824,309 electors on the post-polling day list of electors. The election had a total cost of $24,417,459, or $8.65 per registered elector.
The Chief Electoral Officer has included eight recommendations in the report for legislative change. These recommendations are intended to encourage voter participation, increase efficiency at the polls, contain the overall costs of the election and respond to feedback from electors.
The eight recommendations include:
Establishing a fixed-date election;
Requiring mandatory identification at the polls;
Enabling the Chief Electoral Officer to determine appropriate staffing models;
Providing the Chief Electoral Officer the flexibility to deliver appropriate voting opportunities;
Enabling the use of technology;
Increasing the accessibility of Special Ballots;
Improving the collection, use, and protection of elector data; and
Establishing a threshold to determine the requirements for an official count.
For more information or to view the report, visit 2019 General Election.
Elections Alberta is an independent, non-partisan office of the Legislative Assembly responsible for administering provincial elections, by-elections and referenda.  
For media inquiries, please contact:
Pamela Renwick
Director, Operations and Communications
Suite 100, 11510 Kingsway Ave NW
Edmonton, Alberta T5G 2Y5
780-427-7191
Pamela.Renwick@elections.ab.ca
Posted in: Uncategorized