Special Ballot Applications Now Open For Voting by Mail
March 01, 2023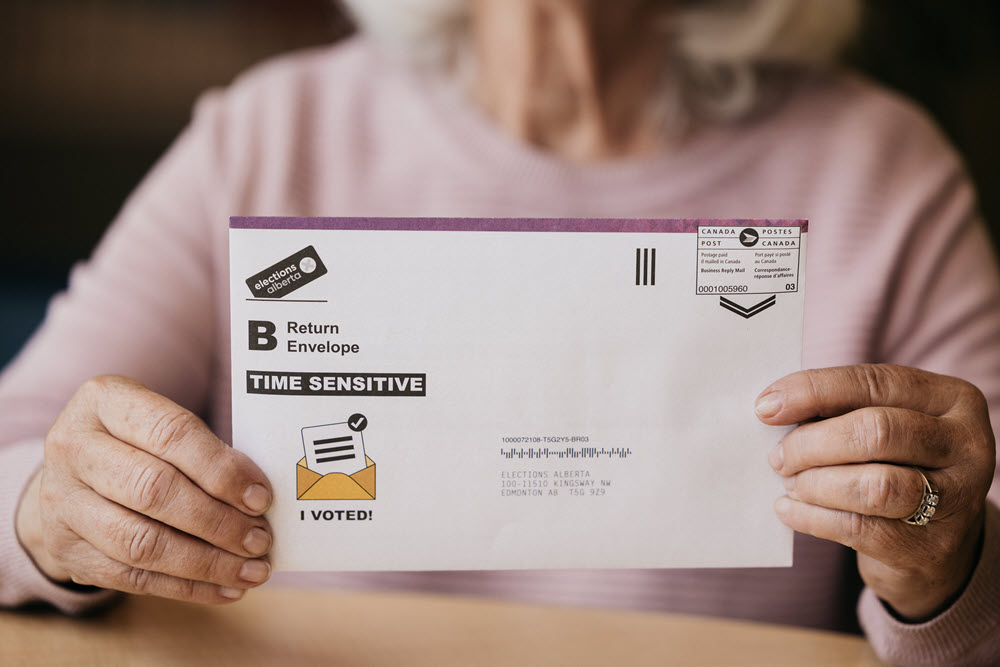 ELECTIONS ALBERTA OFFERS VOTING OPTIONS FOR EVERYONE
EDMONTON – Albertans head to the polls May 29, 2023, and Elections Alberta is committed to ensuring voting is easy and accessible for everyone. Along with voting in-person on Election Day, there are five days of advance voting, mobile voting stations, Special Ballot voting and a mail-in ballot option for electors unable to vote in-person.
Albertans are encouraged to start thinking about where they will be in May and the best voting option for them—especially if they plan on traveling and need to vote by mail or are away from home for work or school. Starting today, electors unable to vote on Election Day or during advance voting (May 23 to May 27, 2023), may submit their request to vote by mail.
"We really want to encourage electors planning to vote by mail to request their package early," says Pamela Renwick, Deputy Chief Electoral Officer. "Getting your request in early helps to ensure that a package can be mailed as soon as the Writ of Election is issued on May 1, 2023."
Special Ballot packages can only be sent out once the Writ is issued and must be received back at the returning office or Elections Alberta prior to the close of voting on Election Day. This provides just 28 days to send, complete, and return the package.
For Albertans who may be away from their home, but still in Alberta, Elections Alberta will once again offer the Vote Anywhere Service. This allows electors to choose any advance voting location to vote and receive the ballot for their electoral division. More than 300 advance voting locations have been secured for the week leading up to the election (May 23 to May 27, 2023).
On Election Day, electors need to vote at their assigned voting location. Over 1,200 locations have been secured for May 29, 2023.
To support those living in treatment centres, emergency shelters, community support centres, and supportive living or long-term care facilities, Elections Alberta offers mobile voting locations. Facilities must have at least 10 electors that are resident or receiving services at the facility to be eligible for a mobile voting station. Over 600 facilities have been identified to receive mobile voting services so far.
"We are ready for everyone," says Renwick. "And we are working hard to make sure as many sites as possible are convenient and accessible for electors. We have expanded the number of locations for advance voting to provide even more access to our Vote Anywhere Service, while maintaining our Election Day voting options in close proximity to electors."
Providing access to voting for all electors is a priority and accessibility remains key to the election process. All advance voting and Election Day voting places are assessed for their suitability and Elections Alberta works to ensure that as many voting locations as possible provide or can be modified to provide barrier-free access. If barrier-free access is not possible, reasonable alternatives will be available.
To learn more about the voting options available in the 2023 Provincial General Election and to apply to vote by mail visit https://www.elections.ab.ca/voters/how-to-vote/. To make voting easier, electors also have access to a new, short explainer video on how to vote.
Elections Alberta is an independent, non-partisan office of the Legislative Assembly of Alberta responsible for administering provincial elections, by elections, and referenda.
For more information, contact:
Robyn Bell
Communications Specialist
Phone: 780.427.7191
Email: media@elections.ab.ca
Posted in: Uncategorized